Bakaliaros (Cod) is a Greek traditional dish that has become synonymous with the celebration of Greek Independence Day on the 25th of March.
The celebration of the 25th of March always occurs during the Great Lent, a period when many Greeks fast for nearly fifty days- abstaining from meat, fish, and dairy from Kathara Deytera up until Easter. During Lent however, there are two exceptions: one on the 25th of March and the other on Palm Sunday when fish is traditionally consumed. In the old days, people living near the shores ate fresh fish on both occasions but people in remote mountain villages could not, as there were no refrigeration trucks to transport fish. Consequently, salted cod substituted fresh fish, during lent and other occasions, as it was cheap and could be preserved for a long time.
The basic secret for the batter is to use ice-cold water which helps the fish not to absorb too much oil. Corn flour makes the crust light and crispy making it hard to resist devouring more than one piece!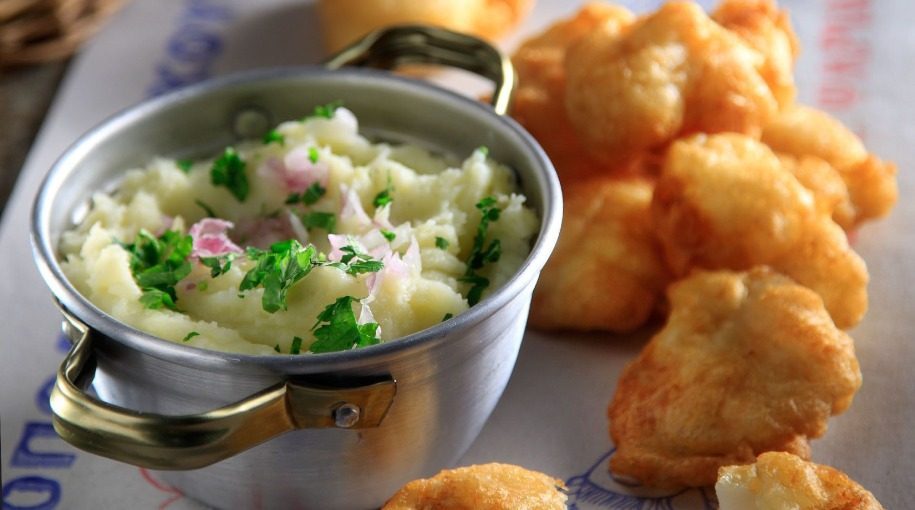 Ingredients
– For the cod
1 1/2 kilo cod, fresh, boneless
pepper
200 g all-purpose flour, for breading
seed oil, for frying
– For the batter
300 g all-purpose flour
1 heaping tablespoon(s) baking powder
1 pinch granulated sugar
1 pinch salt
500 g beer, light, cold
– For the Greek garlic dip
4 clove(s) of garlic
100 g milk
300 g bread, crust removed
2 liters water
100 g olive oil
1-2 tablespoon(s) vinegar, of white wine
1/2 teaspoon(s) paprika, smoked
zest, of 1 lemon
1 tablespoon(s) lemon juice
salt
pepper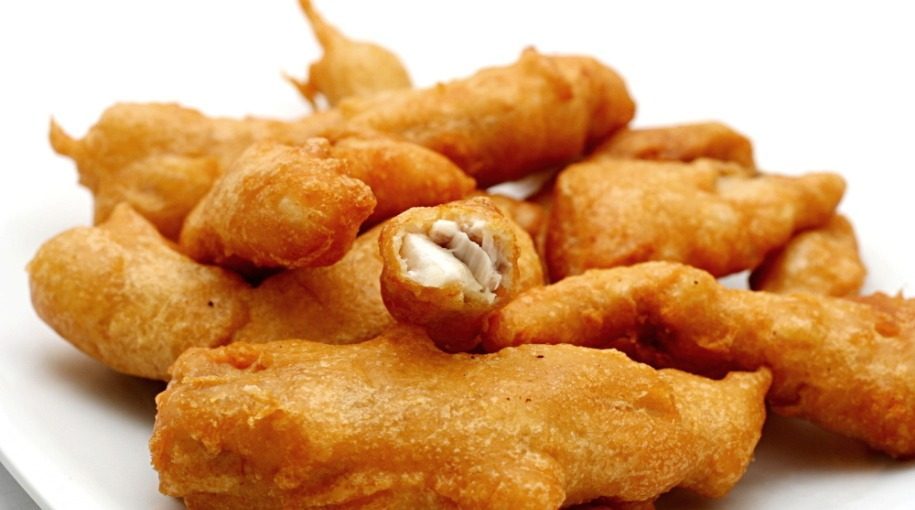 Directions for the Cod
Place a deep pan with sunflower oil over medium to high heat and let the oil heat to 180* C (350* F).
In a bowl, combine the flour, baking powder, sugar and salt.
Add the bear and whisk for 1-2 minutes, until all of the ingredients are completely combined and there are no lumps.
Place the codfish on a clean working surface and season with salt and pepper. (If the fish is salted just add pepper)
In a bowl, add the flour for the breading.
Sprinkle the fish with flour and then dip it into the batter.
Fry for about 4-5 minutes until golden on both sides.
When ready, remove from pan and allow to drain on paper towels.
Serve with garlic dip with bread and lemon wedges (or with fries or tartar sauce)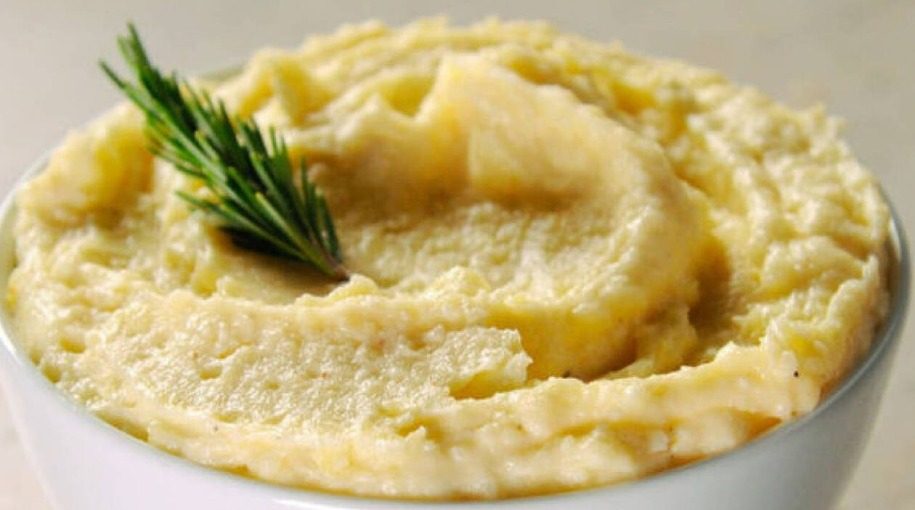 Directions for the Greek garlic dip
Cut the garlic into thin slices with a knife.
Transfer to a saucepan and add the milk.
Place saucepan over medium to low heat and simmer for 2-3 minutes.
Coarsely chop the bread and add it to a bowl.
Add cold water and let it soak for 5 minutes.
Squeeze the bread to release the water and place in a blender.
Add the olive oil, vinegar, paprika, lemon zest, lemon juice, salt and pepper.
Drain the garlic and add it to the blender. Discard the milk.
Beat until all of the ingredients are completely combined and the mixture is smooth and creamy.
Season to taste and serve.
Good luck! or as we say in Greek Kali tihi!